10 ways to help older adults beat the heat
The dog days of summer are far from over. Make sure you're taking the proper precautions for you and your loved ones to beat the heat! As we age, our bodies don't adjust as well to sudden temperature changes, which can lead to overheating more easily. It's important to understand any underlying medical conditions you may have that can also contribute to heat exhaustion. Don't forget to drink plenty of water and recognize the signs that you or your loved one may be overheated. Also, make sure the older adults in your life aren't facing a heatwave alone; regular wellness checks will ensure you or your loved one stays hydrated, safe and feeling cared-for as they beat the heat.
Learn more ways to beat the heat with our free resource: "10 ways to help older adults beat the heat."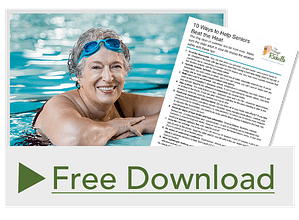 Find the apartment that fits your lifestyle!
One- and two-bedroom apartments are available for reservation now! In January 2021, Glenmere, our 130-apartment home expansion opens and during this small window of opportunity, you can choose the floor plan of your dreams. Additionally, The Village at Rockville offers assisted living,memory care, short-term rehabilitation and long-term care options to fit your needs. Schedule a virtual or in-person tour soon to see all that our community has to offer!